GERMANY, US CLASH ON TRADE TRUMP SAYS GERMAN POLICY 'VERY BAD' Germany's Economy Minister Brigitte Zypries was tasked with convincing
GERMANY, US CLASH ON TRADE
TRUMP SAYS GERMAN POLICY 'VERY BAD'
Germany's Economy Minister Brigitte Zypries was tasked with convincing the Trump administration of the merits of free trade during her seven-day tour of the US, which wraps up on Sunday. But this tactful attempt at diplomacy may have been in vain. Across the Atlantic, Mr Trump reportedly told EU leaders that "the Germans are bad, very bad", going on to cite the "millions of cars they are selling to the US" as "terrible" and something he would "stop".
The US president's comments stem from his country's $65 billion trade deficit with Germany—which is second only to China.
Although the statement is simplistic, top economists, including former Federal Reserve Chairman Ben Bernanke, agree that German exporters do in fact benefit—perhaps unfairly—from an undervalued currency and tight fiscal policies.
Regardless, Mr Trump's undeniable protectionist streak concerns developed countries; Germany, with its export-driven economy, is no exception. Indeed, considering that the US became Germany's largest export market last year, anti-trade sentiment in Washington will be taken very seriously by Berlin.
PEACE CONFERENCE IN MYANMAR
CHINA EMERGING AS POWER BROKER
Myanmar's second Union Peace Conference will conclude on Sunday in the capital Naypyidaw. The summit is being chaired by influential State Counsellor Aung San Suu Kyi and aims to end the world's longest-running civil war.
Internal conflict broke out after Myanmar's independence in 1948, fracturing the country into various states—some controlled by the government and others by armed ethnic groups.
This week's five-day summit aimed to build on an October 2015 ceasefire agreement, which was signed by eight ethnic groups but rejected by another seven.
Although progress was made on federal principles, which Suu Kyi hopes will unite Myanmar, the non-attendance of the United Nationalities Federal Councils—a coalition representing non-signatories—dealt a blow to hopes for peace.
But ultimately the resolution of the civil war may come down to Myanmar's largest militia, the Chinese-backed United Wa State Army, which is now proposing its own competing peace process. As is increasingly the case elsewhere in the region, Beijing's stance on this issue could well be the difference between peace and continued conflict.
Delve deeper: Myanmar divided
CHINA'S DRAGON BOAT FESTIVAL
MILLIONS CELEBRATE TRADITIONAL HOLIDAY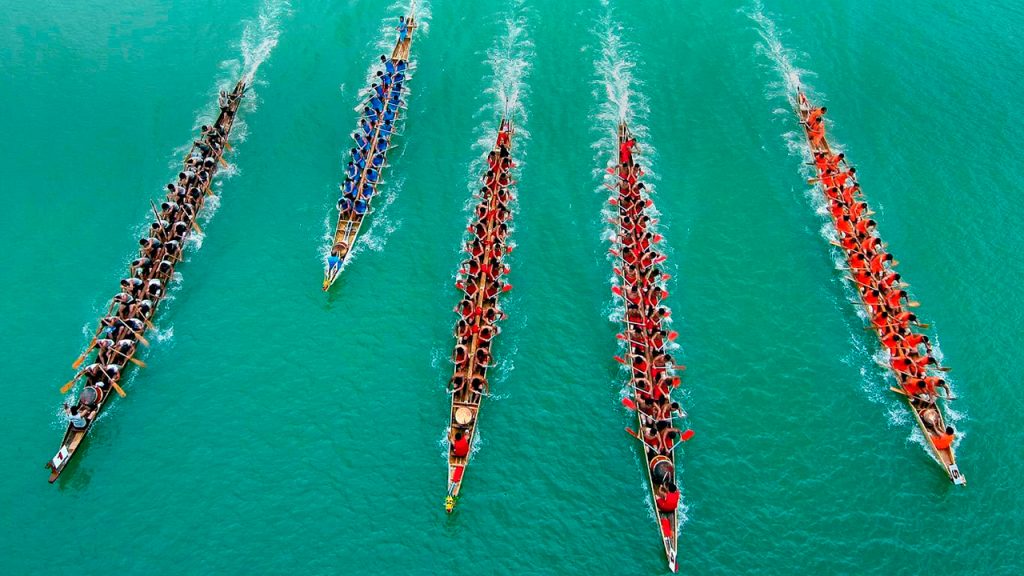 Some 80 million Chinese people are expected to travel across the country when China's three-day Dragon Boat Festival holiday begins on Sunday. The festival commemorates the death of famous scholar, minister and poet Qu Yuan, who died 2,295 years ago.
Qu is said to have served as an official in the Chu royal house before being banished over accusations of treason. In exile, Qu penned a substantial amount of literature and became the first Chinese author to associate his name with his work. Unfortunately for Qu, he was finally captured and committed suicide by wading into a river while holding a rock. In a bid to distract the fish from eating Qu's body, admiring villagers rowed out in dragon boats and dropped sticky rice into the water.
In memory of Qu, today the holiday is celebrated by consuming zongzi—sticky rice stuffed with an array of fillings and wrapped in bamboo—and watching dragon boat races.
While the festival will officially be marked on Tuesday, celebrations will stretch out over three days; a staggering $4.8 billion is expected to be spent on food and entertainment nationwide.
HAPPENING ELSEWHERE…
South Africa's ruling party will wrap up its National Executive Committee summit, possibly resulting in statements that may suggest consolidated support around President Jacob Zuma or hint at a party split.
The Cannes Film Festival will draw to a close on Sunday, but not before the prestigious Palme d'Or is awarded. The inclusion of two Netflix-produced films for the coveted prize has generated heated debate about the future of the film festival and the movie industry at large. From next year, films that aren't screened in a French theatre won't be eligible for a Palme d'Or.
Rallies are expected in the Moldovan capital to protest plans to change the electoral system. The protest is expected to be small and peaceful.