The stories that matter before they happen.
CALLED OFF: TURKISH RALLIES IN GERMANY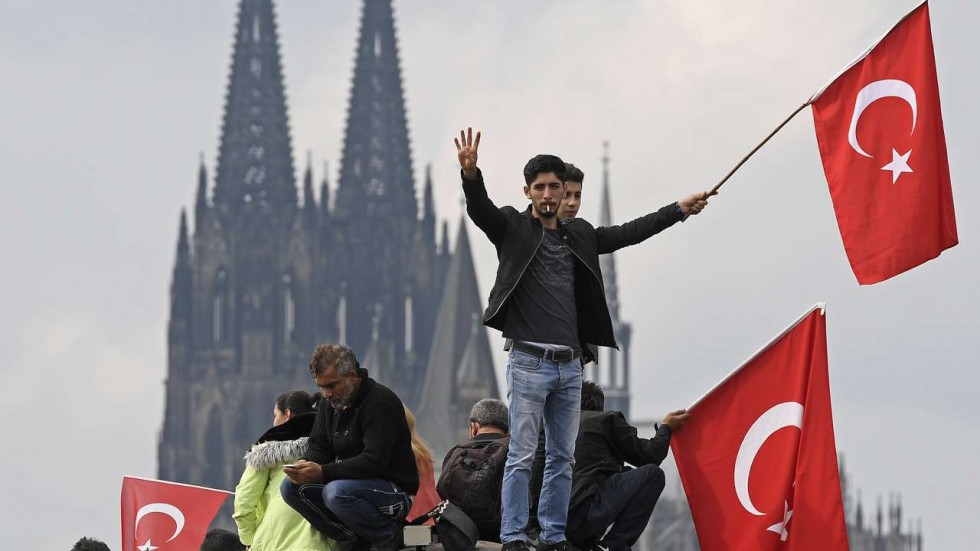 Tensions between Germany and Turkey are on the rise again. Over the past week, local authorities in Germany have cancelled a spate of political rallies in support of President Erdogan's upcoming referendum, including one in Cologne planned for Sunday.
Home to some three million Turkish people and their descendants, Germany is a key battleground for hearts and minds ahead of the April 16 vote. But authorities in the country are unenthused by the prospect.
Ankara has reacted angrily, summoning the German ambassador and accusing Berlin of "working for a 'no'" result. The foreign ministry denies this, saying the federal government has "zero influence" over whether local authorities cancel the events or not.
The spat has the potential to get even nastier; the cancellation of a rally in the town of Gaggenau on Thursday led to someone threatening to bomb the local government.
More broadly, tensions between Berlin and Ankara have yet to subside after Mr Erdogan's sweeping crackdown on political opponents and the media following last June's failed coup. If the strained relationship snaps, Turkey may renege on a critical deal designed to prevent another migrant surge.
Dig deeper: Erdogan's Turkey: towards a new sultanate?
MONEY AND MIGHT: CHINA'S BUDGET
Chinese Premier Li Keqiang will lay out his plans for the economy on Sunday. He's expected to announce that the government will maintain its current growth target 6.5% to 7% of GDP and outline measures to curb oversupply.
A 7% increase in defence spending is also expected to be formally announced. While this may sound significant, it is the slowest rate of expansion since 2010. Nonetheless, at $215 billion, China is the world's second largest defence spender.
The leader of the largest, US President Donald Trump, also announced an increase this week, outlining a plan to add $54 billion to the Pentagon's budget – a 9% increase. This will raise the total figure from $549 billion to $603 billion – more than China and the next 10 countries combined.
The arms splurge on both sides of the Pacific will increase jitteriness in Asia. Washington and Beijing have very different views on security in the South and East China Seas and have brought their considerable naval capabilities to bear in these theatres. Might we be on the verge of a new arms race?
Dig deeper: Structurally unsound? China's slowing economy
ABE'S GRIP ON POWER
Shinzo Abe looks set to become Japan's longest serving prime minister. On Sunday, his conservative Liberal Democratic Party will revise rules to allow party presidents three consecutive three-year terms.
But it's not all smooth sailing for Mr Abe. He and his wife, Akie, became embroiled in a media storm last week. She had been the honorary principal of an ultra-nationalist kindergarten that purchased state-owned land – for a school that was to be named the "Shinzo Abe Memorial Elementary School" – at 14% of its appraisal price. Abe is trying to reassure supporters by offering to resign if he or his wife are found to have been involved.
Despite this, the prime minister remains popular and virtually unopposed. The kindergarten scandal hardly dented his approval ratings, which got a bump from Abe's 'golf-diplomacy' with US President Trump due to the possibility of a bilateral trade deal. There is no other uniting figure within the LDP, and the opposition still suffers from divisions stemming from its lacklustre 2009-12 term.
If nothing comes of the investigation, Abe is likely to remain at the helm well beyond 2018.
HAPPENING ELSEWHERE…
Two of the three candidates vying for Hong Kong's chief executive post will take part in the first debate of the election campaign. Beijing-favourite Carrie Lam and retired judge Woo Kwok-hing, a pro-democracy candidate, will attend.
France's embattled presidential candidate, Francois Fillon, will hold a political rally near the Eiffel Tower. Fillon is under formal investigation for misusing public funds. Calls for him to step down have multiplied recently, but time is running out for his centre-right party to find a replacement before the first round of voting on April 23. If Fillon falls, PM Alain Juppe will likely take his place.
Azerbaijan's foreign minister will travel to Moscow for talks with his Russian counterpart; the president of Armenia visited earlier in the week, suggesting that the Kremlin is mediating talks between the two countries, which are avowed enemies. Skirmishes broke out in the disputed Nagorno-Karabakh region last weekend, killing five Azeri soldiers.