Recent violence between Armenia and Azerbaijan bodes ominously for Russo-Turkish relations.
Fighting between Armenian and Azerbaijan erupted in the disputed Nagorno-Karabakh region on Saturday, killing at least 30. Armenia claims that tanks and artillery belonging to the Azeri armed forces launched an offensive on its positions in the disputed territory. Baku has denied this, asserting instead that they were defending against Armenian attacks.
A statement later released by Azerbaijan confirmed that Armenia had shot down one of its Mi-24 attack helicopters and killed 12 of its soldiers. Meanwhile, Armenia announced 18 of its soldiers were killed and 35 wounded. Both sides of the conflict have reported inflicting heavy casualties on the other, with the numbers going into the hundreds, however, these claims are yet to be confirmed.
On Sunday, a spokesman from the Azerbaijan defence ministry announced a 'unilateral ceasefire' in response to international calls to halt the violence. This ceasefire appears shaky though as Azerbaijan announced on Monday that 3 more of its soldiers were killed and fighting is still being reported for the third day in a row. Armenian president Serzh Sargsyan said if the fighting continued on a large scale, his country would formally recognise Nagorno-Karabakh as independent from Azerbaijan, and formalise Armenian military aid to the separatists.
ROOTS OF THE CONFLICT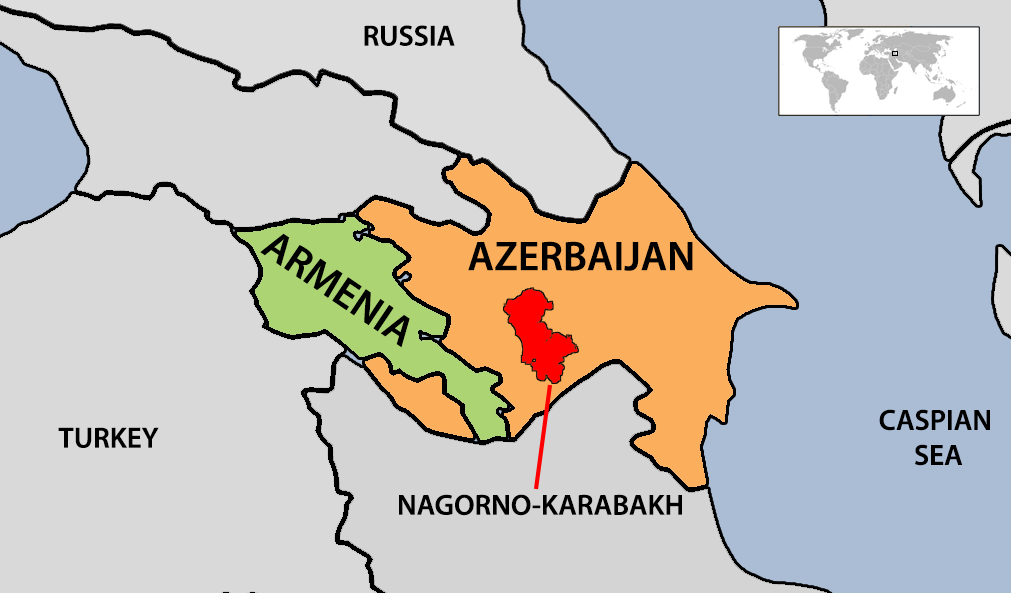 The conflict between Armenia and Azerbaijan can be traced back to the twilight years of the Soviet Union when, in 1988, the parliament of Nagorno-Karabakh voted to unify the region with Armenia. Tensions between ethnic Armenians and Azeris over the territory erupted into full-scale conflict in 1992 that claimed the lives of over 25,000 people and displaced over 1.2 million. Since then Nagorno-Karabakh has operated as a de facto independent republic, supported by Armenia, but is internationally recognised as a territory of Azerbaijan.
The recent outbreak of violence has caused the largest loss of life since both countries signed a ceasefire in 1994, ending the bloody two-year war.
In 2009, the three leaders of the Organisation for Security and Cooperation in Europe (OSCE) OSCE Minsk Group – Presidents Medvedev, Obama, and Sarkozy – released a joint statement urging Azerbaijan and Armenia to support the 'Basic Principles for settlement of the Nagorno-Karabakh conflict' agreement. This roadmap calls for:
– the return of the occupied territories surrounding Nagorno-Karabakh
– interim status for Nagorno-Karabakh guaranteeing security and self-governance
– a corridor linking Armenia to Nagorno-Karabakh
– the final status of Nagorno-Karabakh to be determined in the future by a legally-binding expression of will
– the right of all internally displaced persons and refugees to return
– international security guarantees, including a peacekeeping operation
On June 17, 2010, Presidents Sargsyan, and Aliyev met with Russian President Dimitry Medvedev in St. Petersburg to discuss the Karabakh issue. The next day, heavy conflict erupted in the border region between Azerbaijan and Nagorno-Karabakh.
In a similar pattern of events, last Friday U.S. Vice President Joe Biden met separately with both leaders of Armenia and Azerbaijan in Washington D.C., calling on them to peacefully settle the conflict. A White House statement said that Biden "expressed concern about continued violence, called for dialogue, and emphasised the importance of a comprehensive settlement for the long-term stability, security, and prosperity of the region". Within 24 hours of the meetings, the heaviest fighting in 22 years erupted in Nagorno-Karabakh.
RECENT DEVELOPMENTS

The deterioration of relations between Turkey and Russia in recent months has significantly complicated the conflict in Nagorno-Karabakh. Both Armenia and Azerbaijan are former Soviet republics and enjoy close relations with Moscow. But in recent years, Baku's and Yerevan's relationship with Moscow have been vastly different. Armenia has grown closer to Russia with significant military and economic cooperation including Armenia's decision to join the Eurasian Economic Union in 2014.
On the other hand, Azerbaijan irritated Moscow by completing the Baku-Tbilisi-Ceyhan pipeline in 2006, which transports oil from Azerbaijan in the Caspian Sea to Turkey in the Mediterranean. This has provided Europe with an alternate energy source that bypasses Russian territory and therefore weakens Moscow's dominance over Europe's energy supply. This project has also stoked fears in the Kremlin that Turkey's increased geopolitical power in the southern Caucasus means it is losing a grip on the southern Caucasus region. Azerbaijan is also a staunch Turkish ally, and Russia fears that Ankara could use its influence in Baku to instigate conflict with Armenia. As the conflict in Nagorno-Karabakh intensifies, Russia fears that Azerbaijan could soon turn away further from Moscow and Turkey gains greater influence.
In February 2016, Russia announced a $200 million dollar arms credit to Armenia which was used to buy advanced tank upgrades, multiple-launch rocket systems, anti-tank missiles and handheld anti-aircraft missiles. It remains unclear whether any of this new equipment was used to bring down the Azeri Mi-24 attack helicopter, but the public announcement of the deal is unusual and suggests the Kremlin has perhaps adjusted its approach to the Nagorno-Karabakh conflict. Moscow's move to place several fighter jets at its base in Armenia also suggests that Russia is providing more support to Yerevan, perhaps to offset any perceived Turkish strength in the region.
The most recent clashes in Nagorno-Karabakh have raised tensions in the region which, combined with the general rise of Russo-Turkish tensions, gives the Nagorno-Karabakh conflict far greater geopolitical importance than it once had.