Why Finland and Sweden are seeking NATO membership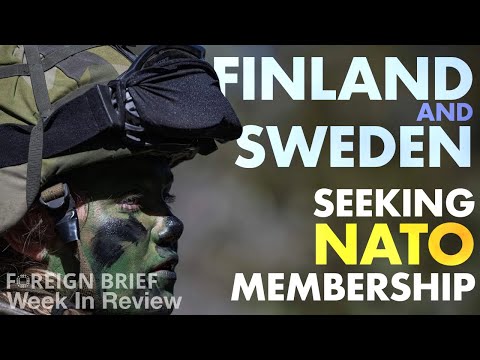 Finland and Sweden have begun the NATO membership ratification process. Find out how these changes will affect the security theater in Northern Europe.
Foreign Brief covers Finland and Sweden's bids for NATO membership. Sparked by the Russian invasion of Ukraine, the two nordic countries are hoping to be included in the military alliance to deter a possible Russian incursion.
Full transcript:
Since NATO's conception in 1949, the organization has continued to integrate more European nations into its military alliances against Eastern threats, namely from the Soviet Union in the 20th century, and more recently from Russia. Now, sparked by the Russian invasion of Ukraine, two previously neutral states are seeking NATO membership, Sweden and Finland. On Monday, the 30 Sitting NATO ambassadors signed accession protocols for the two Nordic countries to join the military organization. How might this ratification process play out? And what does this break in neutrality mean for the North Atlantic security arena?
Monday's signing of accession protocols is only the start of the ratification process. Finland and Sweden will be allowed to attend and participate in NATO meetings, but they will not have voting rights. Additionally, until they are full members, the two countries won't be protected by NATO's Article Five mutual defense obligation, which states then an attack on one NATO ally is considered an attack on all NATO allies. Full membership will require the parliaments of all member states to ratify their accession, which could take up to a year. Canada, Estonia and Germany are expected to be the first to ratify Finland and Sweden's accession.
In this process, Turkey may prove to be the biggest obstacle. The Turkish government has been firm in its demands mainly towards Sweden to extradite affiliates of the PKK, a Kurdish militant group which Turkey deems a terrorist organization. Hours-long sideline discussions at a NATO summit in Madrid Last week saw Turkey drop its opposition after the prospective members agreed to take a harsher stance on the PKK, making additional promises to prevent its fundraising and recruitment efforts. However, Turkish President Erdogan has made clear that he will reverse his decision if such promises are not kept. In Finland despite almost 80% of Finns favoring NATO membership, the compromise went against public opinion with only 14% agreeing with the concessions. American guarantees to sell F-16 jets to Turkey helped sweeten the deal. Russia's response has been predictably hostile with Vladimir Putin decrying what he described as NATO's imperialist ambitions. Adding to these tensions, NATO is vastly stepping up its troop commitments on its eastern flank, increasing the current 40,000 troops to 300,000 and sending billions of dollars in additional military aid to Ukraine.
Daniel Rice
Daniel is the Chief Operating Officer of Foreign brief. He oversees the production and publishing of all of Foreign Brief's products. His background is in the air, space and cyberspace domains of national security and Indo-Pacific geopolitics. He is fluent in Mandarin Chinese.